Kitchen Secrets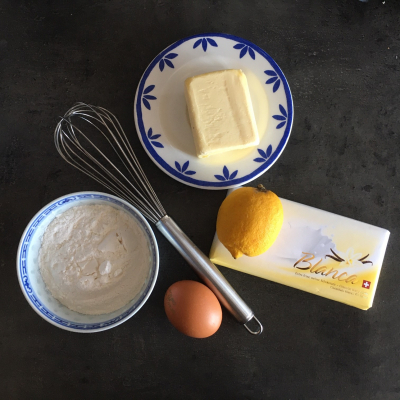 Horia Jarrar
Horia Jarrar, our Director of Finance, HR & Facilities, works wonders in a kitchen. She agreed to share with us one of her best recipes. There is nothing like a chocolate cake to lift morale!
WHITE CHOCOLATE AND LEMON CAKE
Ingredients
100 g butter
100 g white chocolate
2 eggs
100 g sugar
the peel of 1 lemon
2 tablespoons of lemon juice
100 g flour
Preparation
Preheat the oven to th. 6/180°.
Melt the butter with the white chocolate in a double boiler.
In a bowl, whisk the eggs with the sugar, add the mixture of butter and melted chocolate, mix well.
Add the grated lemon zest, lemon juice and flour and mix well.
Pour the dough into a buttered and floured square baking pan. Bake for 35 minutes.
Turn out and let cool on a rack.
Presentation
Prepare an icing by mixing 100 g icing sugar and ½ egg white.
Then add the juice of ¼ lemon and continue beating for a few seconds.
Coat your cake before cutting it into squares.
Horia Jarrar is responsible for finance, human resources and finance for IofC Switzerland, including the premises and hospitality of the Caux Conference and Seminar Centre.
A Swiss and French national, Horia has worked as Business Finance Director for Equant EMEA in Paris and for SITA in Geneva . She has a degree in Finance and a Masters in Economics. She has wide experience in the for-profit and non-profit sectors and in multicultural environments and is passionate about archetypal psychology. She believes in the ability of individuals inspired by universal values to work for a better society.
Click here and discover more tips & tricks.