Inspiring Books of Hope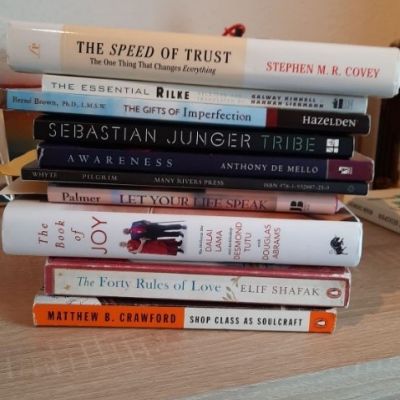 Rainer Gude
We asked Rainer Gude, Strategic Partnership Manager at IofC Switzerland, to dig from his library his best life-changing and inspiring books. This is what he came up with. Surely, you have to try at least one of them:
Deep Work – Cal Newport
Digital Minimalism – Cal Newport
The Speed of Trust – Stephen M.R.Covey
The Essential Rilke – Rainer Rilke
The Gift of Imperfection – Brené Brown
Tribe  - Sebastian Junger
Awareness – Anthony de Mello
Let your Life Speak – Parker Palmer
The Book of Joy – Dalai Lama, Desmond Tutu, Douglas Abrams
The Forty Rules of Love – Elif Shafak
Shop Class as Soulcraft – Matthew B.Crawford
Rainer Gude started his work with Initiatives of Change International in 2012 by coordinating the relations with the UN and other International Organizations and missions in Geneva. Since 2018 he took on the role of Strategic Partnerships Manager for Initiatives of Change Switzerland. He holds a Masters in International Affairs from the Graduate Institute of Development and International Studies in Geneva. Before joining IofC, he worked several years in the business and NGO sectors.
Click here and discover more tips & tricks.