The Week of International Community
30 Years of Community Building Through Practical Service
25/08/2016
In 1986, the first Week of International Community (WIC) in Caux was held to prepare the Caux-Palace for the upcoming conferences and to connect people through service. Since 1946, the Caux Conference Centre gathers every year over 1300 participants from all over the world for the International Caux Conferences held during the summer. The WIC changed to a new format in 2014 with a new program designed by Foundations for Freedom (F4F).
Every year, about 40 people with connections to Initiatives of Change (IofC) and F4F are invited with their parents or families for the WIC. They are introduced to IofC with a focus on community service. Apart from this, there is organized space for sharing personal stories, trust building exercises as well as cultural variety evenings, sightseeing, screenings of IofC films, etc.
'In the beginning the purpose was to bring young Europeans to Caux, who would not necessarily come for a conference but find it easier to come for a working time,' says Ulrike Keller, a co-organizer of the WIC in Caux. 'Young people could meet people from other countries while carrying out practical work. Many of them aged 18 - 22 came from Germany. They were mostly school pupils and university students. This is how young people also learned about IofC. And today many of them are involved in one way or another with IofC in their respective countries.
Since the beginning, the Caux Conference Centre has positioned itself as 'Home for the World'. Processes of reconciliation, dialogue and peace building between individuals and countries such as Germany and France took place in the former Caux-Palace. Those attending WIC also gave their indirect input into building peace in Europe and in the world.
In 1986, Eliane Stallybrass had the idea of holding the first Week of International Community which took place during the Easter holidays. 'At that time there was an international community of about 30 people living in Villa Maria all year round. In the following years, people started coming from the Netherlands, Britain, Germany, France, Belgium, Sweden, Italy,' says Ulrike. 'At one point we were 180 people and it has always been international'. Ulrike's husband Christoph has been responsible for the practical part of the work – repairing, painting, gardening, etc. – for over 30 years. Ulrike has attended the WIC every year since then. 'I myself have never missed one, taking on this or that', she says. In 1996 the WIC shifted to June, with a short time for preparation before the summer conferences.
'The shape of WIC changed over the years acting in ways that go with the times', describes Ulrike of the progress. 'After the fall of the Berlin Wall, people from Eastern European countries could join. Over several years I have heard from young people that it is difficult to explain to their parents what they are doing with F4F and why they are going to Caux. In 2011 I introduced the idea: 'How would it be if your parents could come to Caux and find out in a very practical way, what IofC and Caux are all about?' Angela Starovoytova (Ukraine), Diana Damsa (Romania) and later Anastasiya Maksimova (Ukraine) took on the idea and worked out a new program which was implemented in 2014.
Through storytelling, practical work and silent reflection, the 2016 edition of the Week of International Community continued to connect people from different countries and cultures to create a space for dialogue, understanding and community. 
related stories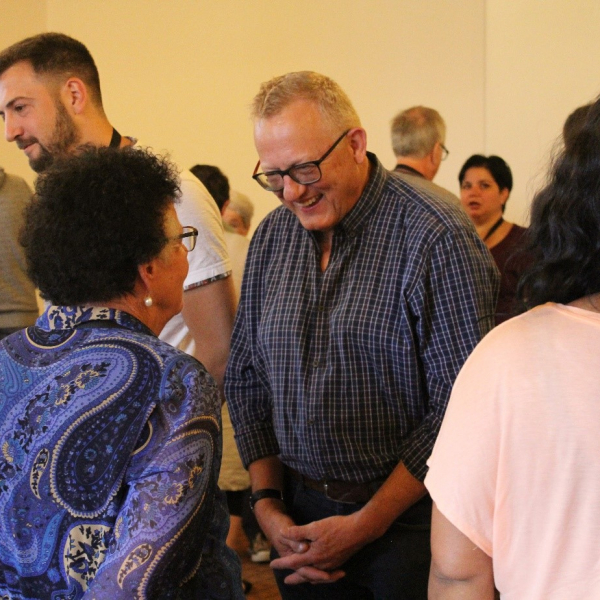 Thirty people, aged from five weeks to 78 years old, from 10 countries gathered for the Week of International Community (WIC) from 19 to 26 June, to prepare the Caux Conference and Seminar Centre for ...