Homeoffice Survival Kit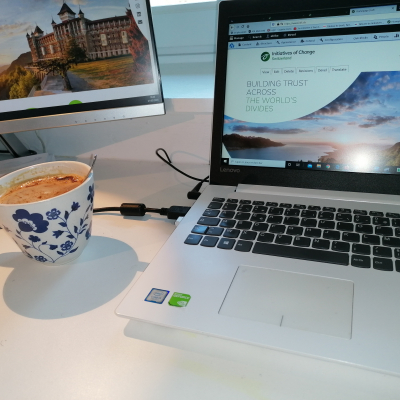 Nick Foster
Nick Foster from the UK is the Director of the Caux Forum and has been working from home for years. We asked him what advice he has for beginners at home office, like many of us are. This is what he shared:
Making sure to break up the day into chunks and not simply be an 'email return machine' - for me that means taking time to reflect on the day before it starts (and what I should learn from the day before (to participate in our live quiet time even, click here)) which I do before the kids get up (though the dog can be somewhat interrupting!)  I find this really helps to 'set the tone' for the day.
Try not to be only transactional in the way you run the day - think of one or two people or things that you can make a positive difference to - it lifts you beyond the screen.
Work out how to finish work - some need a different room, some to run around the garden, some to play the piano, prepare to play with the kids etc. Not just collapsing after a day on Teams is really important.
Paying attention to those I'm speaking to - some feel (rightly) that I'm trying to multi-task at the same time as communicating with them – it's rude, and I shouldn't do it, even if I feel under pressure.
Be interruptible - if the house is burning down or something has happened to someone - noise-cancelling headphones are not a reasonable excuse.
Plan to have time with those around you, or the sense that everyone will get is that work is more important than they are.
Eat properly and drink water (I'm rubbish at these things - actually having the kids at home has helped with this a bit!)
Nick Foster has been Caux Forum Director since 2013. He studied arts and psychology education. He has lived around the world and worked in education and the NFP sector, and run his own manufacturing company in South Africa. He has also worked as a consultant to businesses on topics such as partnership development, staff retention and burnout. Nick has been involved with IofC for a long time, first through 'Making Britain a Home' and then through 'Foundations For Freedom' in Eastern Europe and Russia.
Click here and discover more tips & tricks.