Leadership for a resilient economy
25-26 June 2020
The COVID-19 pandemic has revealed weaknesses and strengths in our socio-economic systems. It is causing a global recession and many people have lost their jobs or sources of revenue. As we rebuild our economy, let us make it as sustainable, inclusive and resilient as possible. The Ethical Leadership in Business conference explored how we can achieve this by looking at what we need to learn and how leaders can promote those values.
For its first online edition, the conference offered three panels and one workshop. Two of the online panels were livestreamed on Facebook and on our website. They had a hybrid form, with some speakers and moderators being filmed from the Great Hall of the Caux Palace, and others joining in via zoom and other platforms.
Before each session, participants had the chance to take part in Caux Connection Times, networking with other participants or getting to know the speakers better through short interviews.
What's next?
The discussion will be continued through a monthly check-in with all the ELB community members to exchange on a global issue; bi-monthly Ethical Leadership Business Talks intended for business leaders; and quarterly Roundtables on Entrepreneurship.
Thank you!
We would like to thank all the sponsors and donors who have made this hybrid online experience possible. We are deeply grateful for your support!
Participants' feedback
This was my first year to attend the Ethical Leadership in Business module at the Caux Forum. Congratulations on such an excellent programme. The three sessions I attended were superb!

Jeff Berger (United Kingdom)

 

I would like to say a big thank you for the Caux Connection Times during the Ethical Leadership Conference. I learnt a lot during the workshop on 'Leadership in the Community' and hope to put all I learned into great use.

Catherine Onaifo (Nigeria)

 

I just wanted to say thank you very much for the fantastic panel today on lifelong learning for a resilient economy! The topic and conversation was very interesting, from soft skills versus hard skills, to 'online space being a safe space for failure'. I really enjoyed it and I loved the 30 seconds quiet time. Great idea! I had never seen it before.

Sep Riahi (New York)
Watch the panels
25 June 2020: Roundtable - Innovation and Entrepreneurship in Africa: challenges and opportunities
The Ethical Leadership Roundtable on 'Innovation and Entrepreneurship: building resilience in the economy and society' facilitated exchange on small and big innovations and adaptations in such fields as health care, education, work, commerce, payment services, delivery and entertainment.
Moderator:
25 June 2020: Livestream Panel: Lifelong learning for a resilient economy
Quality education and lifelong learning are key elements in building a resilient economy.
Speakers
Moderation
26 June 2020: Livestream Panel: Leadership for a moral renewal in the economy
At a time of unprecedented crisis and uncertainty, business leaders are faced with conflicting challenges. They have to make prompt decisions, based on limited information, while anticipating future opportunities to increase business sustainability. They need to protect business performance – and to reassure employees and customers. All this requires empathy, compassion and trustbuilding.
 
Speakers
26 June 2020: Leadership in the Community
What is my role in shaping our future? How can I take leadership for change in my community? What special role do companies and entrepreneurs have?
The Leadership in the Community workshop offered a place to explore how we can become the change we want to see in the world. As there are no pre-existing recipes, this workshop aimed to help each participant define their own way of engagement and leadership.
Leader
Gabriele Segre, Director of the Vittorio Dan Segre Foundation, will guide you through a conversation and time of introspection in a safe space, where there will be no live streaming or social media sharing.
Caux is such a humbling place, providing you with a safe space to experiment with different topics and flourish in bold thinking, all while staying true to yourself.
Michelle Rickenbach, IT Project Management & Ecosystem Relations at Panter AG
The Caux Forum – ethics in business – provides a very open and calm environment for conversations to take place where we take the time to listen. This means we can tackle tricky topics differently from how they are treated in the press which is always the same. Here we can share ideas with a new approach to ethics and technology.
Father Eric Salobir, President OPTIC Technology
I have loved every second of this conference. Never expected to meet so many interesting and warm people. I go home with many new ideas, thoughts and friendships.
Bram Jonker, Senior Innovation Manager, Deloitte (Netherlands)
I'm leaving the conference enriched and content, and with considerable take-aways for my professional life.
Antonio Hautle, Global Compact Network Switzerland, Senior Programme Leader & Network Representative
The idea of self-reflection and what you can do on a personal level to have a bigger impact in the world is really important.
Tara Scanlan, Customer Success Group, Salesforce
The Ethical Leadership in Business conference equipped me with the mindset, knowledge and connections to contribute to ensuring that our digital transformation benefits humankind.
Tom Marshall, Innovation Community Ambassador, Deloitte (Netherlands)
back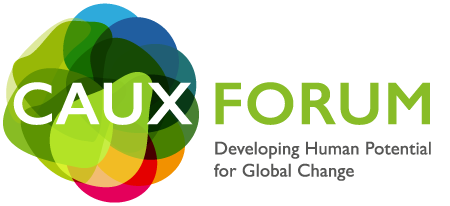 Ethical Leadership in Business 2020 - Programme
programme ->
programme
Thursday, 25 June
Friday, 26 June
Please note that this programme is subject to change.
NB: Please note that for technical reasons the Caux Forum Online will be held mainly in English with some sessions in French. No interpretation will be offered. Thank you for your understanding.