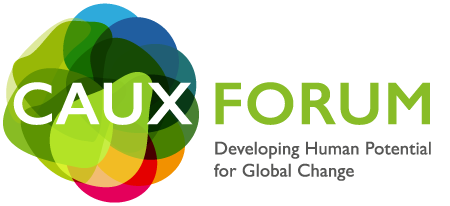 Ethical Leadership in Business 2018
28 June - 01 July 2018
How to lead in times of disruptive innovation? - Driving innovation and building resilience in business and societ
___________________________________________________________________________
We live in an increasingly complex environment with technological innovations continuously impacting the way we work and live.
Initiatives of Change Switzerland aims to increase the resilience of today's business leaders with an ethical and innovative corporate culture that strengthens organizational performance while furthering the future of our society.
From 28 June –1 July 2018 at the Caux Palace Conference Centre, we will give you the time and space to disconnect from your daily routine, learn from experts and participate in small group discussions and workshops.
No business sector or profession will be left untouched by the unprecedented speed and scope of change brought about by huge technological advances.
This event will offer:
Through expert contributions, inspiring case studies, open discussion in small groups, and workshops, you will learn to:
develop ethical leadership in business
handle the impact of disruptive technologies
create a values-based and innovative corporate culture to face today's challenges
identify and handle ethical dilemmas in the workplace
foster resilience of employees and the company
build trust across diverse stakeholder groups: employees, suppliers, customers
Especially, if you work in these domains:
Leadership Development
Human Resources
Research & Developoment
Organizational Development
Corporate Digital Responsibility
More than ever, leaders need to build trust in the workplace so that employees can embrace and adapt to the constant change. The best way to build trust is through people-centered leadership. While leaders still define the vision and objectives, their main job is to be of service to their team members enabling them to give their best. Developing a 'people-centered leadership' style demands compassion, empathy and care for team members. In order to inspire and support others, leaders must start with themselves by striving to 'be the change they want to see in the world'.
Special features to practice leadership:
The ongoing technological revolution is a human challenge. Artificial intelligence and robotics are affecting all kinds of jobs. Companies need to develop their employees' skills, so that they stay relevant to the labour market. Two sets of skills are most relevant: those related to the digital economy, and soft skills such as creativity, emotional intelligence and problem-solving. For many companies, it is already a challenge to hire adequate labor, and the need to invest in reskilling employees will only increase in the near future.
At ELB you will learn:
What leaders can do to prepare the future workforce
Culture of Learning: Values and Attitudes that Encourage Innovation
How to foster emotional intelligence among employees
How to build resilience on a personal and organisational level
Innovation is at the heart of business growth, knowledge development and job creation. Competition in the digital age often comes from the areas we least expect. Technology is moving so quickly that today's innovation soon becomes yesterday's. To remain innovative, we need a trust based corporate culture that favors creativity, ethical thinking and risk taking.
At ELB you will learn:
How to co-innovate in a mini-idea-lab
Which values and attitudes can encourage innovation
Innovation for business leaders: new tools, new responsibilities
How ethics can be incorporated into the innovation process
In today's fast changing environment, businesses need to strengthen their resilience through greater agility and trust. Trust is a competitive business advantage that allows employees to be agile and innovative, thus winning customers' loyalty. Organizations that trust their employees and value results, are rewarded with employees who are more engaged and collectively motivated to increase productivity and impact.
At ELB you will learn:
How a "flat" organizational model increases employee motivation and engagement
How foresight helps to build trust
How to build both an individual's and the organization's resilience
What makes us human in the machine age
As the world becomes more reliant on digital technology, businesses must consider how to include corporate digital responsibility business strategy. This means taking responsibility for the economic, ecological and social impact of the digital economy. Problems need to be addressed, such as how to maintain customers' trust while using personal data, or how to encourage workers to become lifelong learners. Which technologies help businesses to strengthen their sustainability strategy?
At ELB you will learn:
How can we guide the impact of disruptive innovations
How to overcome ethical blindness in the workplace
How to build ethical behavior through transparency and accountability
What leaders can do to prepare the future workforce
What is so special about this conference?
We work on elements we have control over: our mindset and attitude towards disruptive change and the values that guide our questions.
In times of growing online connections, we offer human connectedness by giving time to meet and exchange during breaks, small group discussions, and organized "Meet & Eats" with speakers. Workshops and the Hackathon are opportunities for fantastic interactions and learning.
As an international conference, we reflect 'global contrasts and perspectives' on the impact of disruptive innovation.
We use various learning and experiencing methods formats, rather than lectures so that participants can actively contribute to the learning journey.
We invite a range of speakers who will share their expertise and experiences with the participants.
The beautiful and inspiring Caux Palace Conference Centre, surrounded by the Swiss Alps and overlooking Lake Geneva, helps us to disconnect from our daily lives.
Speakers
Vivek Asrani (India) - Managing Director KAYMO
Japman Bajaj (Canada) - Telecommunications Executive and Entrepreneur
Christophe Barman (Switzerland) - Co-founder and Director of Loyco
Kristin Engvig (Norway) - Founder & CEO WIN - Creative person and Social Entrepreneur
Joshua Entsminger (Switzerland) - AI Specialist, Nexus Frontier Tech
Marcel Gasser (Switzerland) - Entrepreneur
Hiroshi Ishida (Japan) - Executive Director, Caux Round Table Japan, Developments in the Field Panel, Business and Humen Rights Journal, Cambridge University Press
Angelica Kiboro (Kenya) - Deputy Principal and Registrar at Strathmore Institute
Chikako Miyata (Japan) - Vice President, ANA HOLDINGS INC., CSR Promotion
Emily Munro (Canada), Deputy Head and Strategic Foresight Cluster Leader, Geneva Centre for Security Policy
Kim Nicol (USA) - Executive Coach
Jonathan Normand (Switzerland) - Founder & Executive Director of B Lab Switzerland
Marcello Palazzi (Italy) - Entrepreneur
Archana Rao (India) - India Country Director, Global Citizen Year
Eric Salobir (France) - Founder and President of OPTIC network
Barbara Smeltzer (Canada) - Senior Manager, Strategic Initiatives at Salesforce.org
Marjorie Stamper-Kurn (USA) - Diversity and Inclusion Consultant
Sarah Stephen (United Kingdom) - Researcher, University of Lausanne
Tanujah Swaminathan (Singapore) - Information Security Analyst
Nadia Thalmann (Singapore) - Founder and Director of MIRALab, Director of the Institute for Media Innovation
Peter Vickers (United Kingdom) - Chairman & Managing Director, Benjn. R. Vickers & Sons Ltd (Vickers Oils)