Remaking the World: Experiences from Mexico, Germany and Colombia
11/11/2021
The eighth edition of the CPLP Talks recognizes the courage shown by Caux Peace and Leadership Programme alumni in responding to the challenges that the world is facing. Below alumni from Mexico, Colombia and Germany describe intiatives they are taking.
Bringing a vision to life
Diana Carolina Silva from Colombia was part of the Caux Peace and Leadership Programme (CPLP) in 2018. She writes:
Three years after my time with the Caux Peace and Leadership Programme, I want to share how this experience reaffirmed my vocation to working with communities and organizations and how it transformed my way of doing things.
CPLP was a unique cultural exchange experience. It allowed me to hear different life stories and interact with people from other parts of the world. My days at the Caux Palace were a direct experience of interdependence and responsibility to build a better world.
Thanks to Caux, I have been able to exercise a different leadership style, based on recognizing others, from a horizontal perspective, as I accompany the strengthening of social organizations in around 15 countries of Latin America and the Caribbean.
My work is based on a vision of collective construction and intersectionality, which is interested in each of the leaders, organizations and population groups that are part of the process, and seeks new paths of transformation and impact.
I focus on processes to generate dialogue, exchange of experiences and identification of good practices around such topics such as the strengthening of democracy, the fight against corruption, human rights, and the protection of the most vulnerable.
The Caux experience rekindled my passion and directed my professional practice towards working with new social organizations beyond the borders of Colombia, in Latin America and the Caribbean. As the coordinator of Participation of Civil Society in the Summit of the Americas (PASCA) and at the Latin American and Caribbean Network for Democracy (REDLAD), I am always accompanied by what I learnt at Caux, and, most importantly, by the smiles, songs and long talks that this unforgettable experience gave me.
_____________________________________________________________________________________
Taking new steps
Sebastian Hasse found his way to IofC through different encounters which inspired him to train in mediation and to be part of the Caux Peace and Leadership Programme in 2019. He now lives in Paris, France.
IofC is a community of committed people from different cultures and regions, which has grown over decades. This community is not free of conflicts. But trust, understanding and care for each other prevail.
I have set myself the task of strengthening this inner cohesion even more, because I am convinced that the challenges that humanity faces can only be overcome on the basis of strong, healthy communities of committed and selfless people with robust self-esteem.
Inspired by my experiences in Caux and within the framework of the CPLP, I have decided to contribute to the preservation of the IofC community in two ways.
Firstly, I left my home country Germany in order to get to know other local IofC communities in the world in the upcoming years and to work with them on their respective projects. I now live in Paris, France, where I have been warmly welcomed. I hope to gain insights into the trustbuilding programme here and to learn French, which will make it easier for me to improve my networks and communications within the global IofC network. 
Secondly, I am part of the organizing team of the IofC Hub, whose primary goal is to strengthen the inner cohesion of IofC. The special thing for me about working in this team is the personal connections I am making with very diverse personalities around the world.
_____________________________________________________________________________________
At the service of others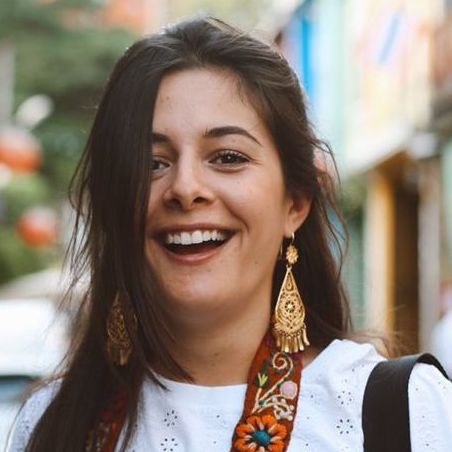 Odette Solis from Mexico took part in the Caux Peace and Leadership Programme (CPLP) in 2018. She writes:
I'm a graphic designer, with a great passion for social responsibility. The CPLP experience was a gift which came at the right time, just as I had graduated from college. I try to pass on its benefits.
I began my career as the director of a non-profit called Soñar Despierto, then, in 2019, I became project manager at Endor, an advertising and design agency. In 2020 I participated as a designer in Ensamble Artesano, a project of Fundación Haciendas del Mundo Maya where we reactivated the economy of more than 2,700 artisans across Mexico.
Personal, academic and work experiences in Chile, Spain, Switzerland and Costa Rica have formed me into the person I am today and opened my eyes to the world's need for leaders seeking a positive impact.
Social responsibility and service were a huge part of the CPLP experience. It helped to confirm that I wanted to put my profession at the service of others. I met wonderful people with incredible projects that have been an inspiration in my life.
I have since created the Grax Vida account on Instagram. During the COVID19-induced lockdowns in 2020, I activated a campaign called Help from Home, which gave boxes of supplies to more than 5,000 Yucatecan families.
Currently, I'm project leader for the Palace Foundation in Yucatán. I'm in charge of Refettorio Mérida, a soup kitchen that seeks to nourish not only the bodies, but also the souls, of people living in vulnerable situations. We also run Casa de Vida Independiente, a residence for young women who do not have family support networks or financial resources.
I will always be grateful for the opportunity of being part of something as special as the CPLP and I commit to try and pass on the benefits of this gift.