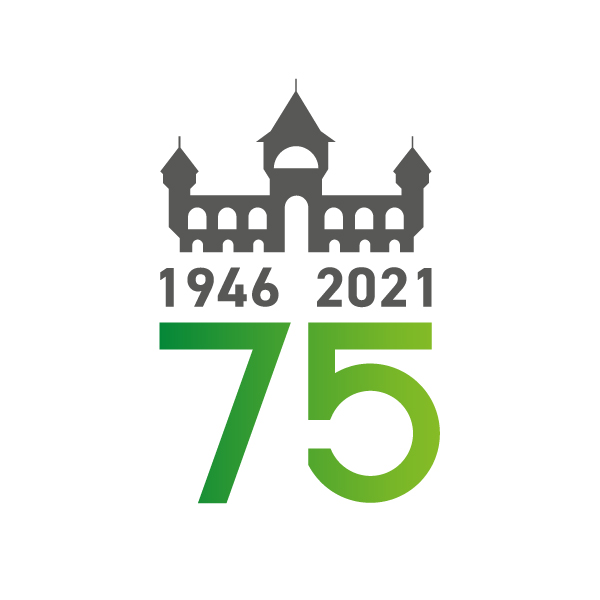 75 years, 75 stories
By Yara Zgheib
01/02/2021
As we launch a series of 75 stories, celebrating the 75th anniversary of Initiatives of Change in Caux, Yara Zgheib from Lebanon reflects on this special place at the heart of the Swiss Alps which has changed the lives of many people from all over the world.
"The sun is setting on the Lac Léman. From the terrace of a palace in Caux, it looks like it is on fire. The air is purple and orange. It smells of orange as well; the fruits we just peeled and shared. We: Lebanese, French, Swiss, German, English, Indian, Moroccan, Ethiopian, Ukranian, and a Bob-Marley-guitar-playing-Dutch-Hawaiian-Palestinian.
On a table to my right, two coffees in porcelain cups are getting cold; two men face each other over them. They come from war. They were making war, not long ago. Here, they pass the cream. Here, they must talk. Here, between them, sugar, a plum, some bread. The table creaks with their stories, each true and personal. The past, hurts, prejudices, fears. I came here with my own: June 25, 2010, a shipwreck of a girl.
I stepped off the mountain train with a heavy blue suitcase; I was angry and tired and grieving. I was 21 and had lost so much. I had not had lunch, or much sleep. I had no expectations. A stranger took me to an empty dining hall and offered me a sandwich.
My story is not special, or mine. It belongs to this conference centre.
I found myself suspended between the blues of lake and sky. I spent the rest of the month serving meals to hundreds of people. I also dined with rebels, musicians, students, activists, coffee bean farmers, priests, sheikhs and a former Vice-President of her country. I folded linen, washed plates. For the first time in my life, I was quiet.
The wars inside me went quiet too. This place taught me to breathe, to see, others and myself. By the time I left, I felt so light I could have flown to Montreux.
But my story is not special, or mine. It belongs to this conference centre. It is 75 years long and contains hundreds of thousands of train rides, walks, talks, teas, conversations, and quiet moments of giant transformation.
Seventy-five years. Seventy-five stories, of so many. To celebrate the anniversary, throughout the year, we will be sharing stories that took place in this palace on a mountain, one for every year since 1946 and the first gathering of Initiatives of Change here.
In doing so, we look forward, and up, at the blue and years ahead."
Yara Zgheib is a writer, traveler, and lover of nature, jazz and art. She was born in Lebanon and has pieces of her heart scattered through Paris, London and Boston. She is the author of The Girls at 17 Swann Street and the forthcoming No Land to Light On. She writes weekly on culture, art, travel, and philosophy on her blog: The non-Utilitarian. Her essays are prose, poetry, musings on things neither practical nor useful, but true and beautiful. Essential. Wearing her other hat, she consults with governments and the nonprofit sector on peace and security strategies, with an emphasis on conflict resolution, counter-terrorism and countering violent extremism. She is a Fulbright scholar with a Masters in Security Studies from Georgetown University and a PhD in International Affairs and Diplomacy from the Centre d'Etudes Diplomatiques et Stratégiques of the Hautes Ecoles Politiques de Paris. She joined Initiatives of Change in 2011 and has since been an organizer of the Forum on Just Governance for Human Security and chair of the humansecurityX Fellowship Programme. She believes that love and ideas can change the world. She likes books and smart conversations, early morning yoga, evening walks.
This story marks the launch of our series 75 Years of Stories about individuals who found new direction and inspiration through Caux, one for each year from 1946 to 2021. If you know a story appropriate for this series, please do pass on your ideas by email to John Bond or Yara Zhgeib. If you would like to know more about the early years of Initiatives of Change and the conference centre in Caux please click here and visit the platform For A New World.
Discover our first stories here:
Photo Caux Palace: Adrien Giovannelli