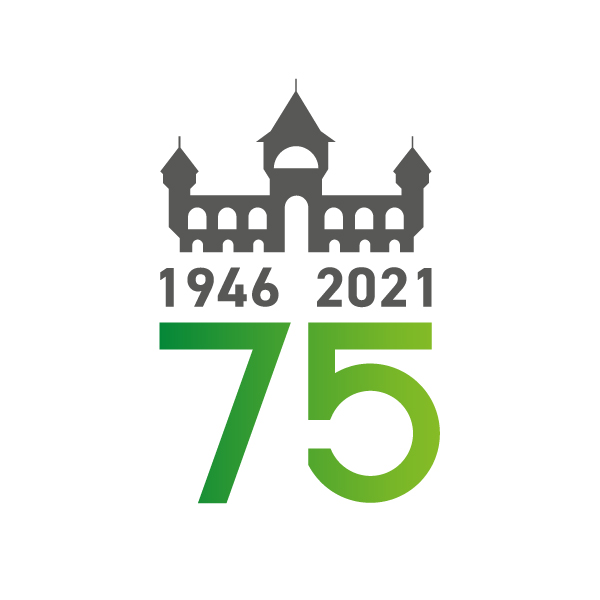 1978 - Heinz and Gisela Krieg: Take Germany, for example
By Monica and Folker Mittag
22/07/2021
Among the 450 people who took part in 1978/1979 winter conference in Caux was a large group from Germany. They were there to present an unusual play, Zum Beispiel Deutschland (Take Germany, for example), written and produced by Gisela and Heinz Krieg.
On an earlier visit to Caux, Heinz, an artist and teacher, and Gisela, a former actress, had met young Germans who could not come to terms with the history of their country, and called themselves Europeans rather than Germans.
Gisela started writing a stage production with examples from German history which the young people could be proud of. She added some pointed verse on German stereotypes: the bureaucrat who only follows the rules; the tourist who bags the best place at the seaside with her towel; and several more. Heinz crafted beautiful masks for them.
The play was performed at the conference centre in Caux in 1977 and 1978, in Berlin and Freudenstadt in 1978 and, with French translation, in Orléans in 1979. None of the actors were professionals.
Every performance was a miracle as there was never enough time to rehearse. Many of the actors and audiences found a new understanding of Germany and its past, and a hope for its future.
A second play, Der Zug (The Train), presented in Caux in 1983, took the issue a step further – from coming to terms with oneself to reconciliation with others.
Heinz had made an amazing journey in his life. As a boy, he had been a convinced member of the Nazi youth organization. He had fought on the Russian front and been badly wounded. By the time he first came to Caux in 1949, his worldview had begun to shift, and he was moving towards an equally strong commitment to building a world of peace and justice, where everyone's needs are met because no one insists on having his greed fulfilled.
We both got rid of our hatred.
What really shook him at Caux was hearing a young Czech of Jewish origin apologize for his hatred towards the Germans. He had fled to the US before the war, fought in the US army and lost a leg. Heinz had been in Prague at the end of the war. After the meeting the two men talked. 'He listened to everything I said about the revenge the Czechs had taken on the Germans,' said Heinz. 'We both got rid of our hatred.'  
This was the first of many such encounters. Years later, at an evening with Jewish friends in Berlin, Heinz felt he had to explain that he had not, as they assumed, been anti-fascist. 'They were absolutely silent when I said how sorry I was for all the suffering they had been through because of the indifference and blindness of people like me. Then one of them said, "This lays the basis for our friendship."' Later, when he was in a home for the aged, he visited local schools to tell the children about his life and the secret of forgiving and being forgiven.
Later, he visited local schools to tell the children about his life and the secret of forgiving and being forgiven.
People from all over the world streamed in and out of the Kriegs' home in Berlin, where they helped visitors experience what it meant to live in a divided city in the days of the Cold War. One regular feature were the Tuesday meetings. For many years, up to 25 people would come to enjoy Gisela's delicious soup and then spend time in quiet together, share their thoughts, build friendships and pray.
When one of their five children started taking drugs, Gisela helped to set up a self-help group where parents of addicts could support and learn from each other. 'In those days the parents of addicts felt isolated,' said Gisela. 'For years the soup burnt while I was on the telephone talking to parents.' A network of groups developed around West Germany, and Gisela and two of her colleagues were awarded Germany's Order of Merit for their work.
Once Heinz retired from teaching, Gisela also gave up her voluntary assignments. They could now travel together, including to the Moral Re-Armament (now Initiatives of Change) conference centre in India, where they spoke from the platform with a French couple about how bridges had been built between the two countries after the second world war.
Click here to watch Hanno Krieg's interview with his father about his life: Life Was Suddenly More Beautiful.
Read more about Heinz and Gisela Krieg in One Family's Berlin
_______________________________________________________________________
Andrew Stallybrass (UK/Switzerland) writes:
The German language and Germany were two of my father's great loves. Bill Stallybrass studied in Germany before the war, and seriously envisaged suicide when war broke out between his country, Britain, and Germany. He couldn't bear the idea of having to fight against the people that he loved. Friends in Moral Re-Armament helped him to see that there was an evil in fascism that needed to be fought, but that he didn't have to hate the Germans. So he used his language skills in military intelligence.
In 1983, he took part in a production in Caux of the Kriegs' play, Der Zug (The Train), acting in German. He wrote, 'I found myself unable to identify with my part, which was that of a former RAF pilot who had taken part in the raid on Dresden and was confronted [on a train] with a German girl, whose grandmother had survived the raid and had been left with a deep hatred of all Brits and Americans.'
Thanks to the atmosphere created by the Kriegs, we experienced reconciliations between Austrian and Italian, German and Briton, American and German, German and Swiss.
He had a meal with Heinz and his sister, Hannelore, who was directing the play. 'I talked freely about the past, starting with the death of my father, and spoke of the guilt that I still carried over the suicide of two of my four brothers, each of whom I had failed in their hour of need. I left the table with new hope and by the next morning had experienced a sense of forgiveness and freedom which has increased over the years.
'Coming from ten different nations, we amateur actors did not always find it easy to get on with each other but, thanks to the atmosphere created by the Kriegs, we experienced reconciliations between Austrian and Italian, German and Briton, American and German, German and Swiss.'
___________________________________________________________________________________________
This story is part of our series 75 Years of Stories about individuals who found new direction and inspiration through Caux, one for each year from 1946 to 2021. If you know a story appropriate for this series, please do pass on your ideas by email to John Bond or Yara Zhgeib. If you would like to know more about the early years of Initiatives of Change and the conference centre in Caux please click here and visit the platform For A New World.
Photos: Initiatives of Change (except cartoon, photo in garden and lion puppy)
Photo in garden: Ivo Krieg
Cartoon: Monica and Folker Mittag
Lion puppy (first from left in puppet gallery): Monica and Folker Mittag