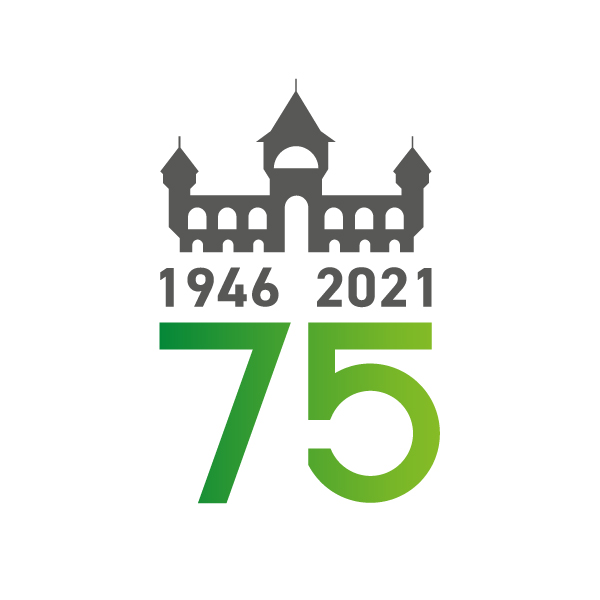 1990: King Michael of Romania – 'Evil cannot last indefinitely'
By Andrew Stallybrass
14/09/2021
In the summer of 1990, six months after the overthrow of Communism in their country, 30 young Romanians came to Caux. It was their first time outside the Eastern bloc, and they had been hesitant about coming, not sure what they would find. They were overwhelmed by the place. 
A few days after their arrival, we asked if they would like to meet the exiled King of Romania, who had often visited the conference centre at Caux with his wife, Queen Anne, and their daughters. Their enthusiastic response showed us how popular King Michael was among some of those who had grown up under Communism. Several of these young people came back year after year to help in various departments at Caux.
The Romanian royal family's links with Moral Re-Armament (MRA, now Initiatives of Change) dated from well before World War II, when Frank Buchman met King Michael's grandmother, Queen Marie, in Bucharest.
King Michael met Buchman again in the 1950s, after he had been deposed by the Communists. 'With my sadness and unhappiness at having lost my country, my bitterness had grown because of a feeling of not belonging,' he said. 'After our meeting, I felt this great load was taken off my mind and soul. I realized that no problem was too great or too small for Frank. The greatest or the smallest problem in someone else's life received the same loving care from him.'
I felt this great load was taken off my mind and soul.
After that he and his family made frequent visits to Caux from their home near Geneva and took part in various MRA activities. Queen Anne felt more at home lending a hand in the Caux kitchen than in meetings and there are a number of stories of her fellow cooks' shock when they realized who she was.
Michael became King of Romania in 1940 aged 18, when the Prime Minister, Ion Antonescu, forced his father, King Carol, to abdicate and allied the country with Nazi Germany. King Michael could not prevent this, but his opposition to any systematic round-up of Jews meant that Romania's large Jewish community suffered less than in any other of the Axis powers.
In August 1944 the reserved young king suddenly shot to international prominence in a coup d'état that took Romania over to the Allies' side. Knowing that the Romanian army was loyal to the king, even though it was commanded by Antonescu, King Michael summoned Antonescu to the palace and demanded his resignation. When he refused, the palace guard arrested him.
'Antonescu screamed the place down,' King Michael told me in an interview in 1992. 'They took him to the first floor, while he threatened them with execution, and they locked him up in the walk-in safe that had been built to house my father's stamp collection.'
The fascist government were summoned one by one, and arrested as they arrived. The army were ordered to stop fighting, and a provisional government was formed. The country was partly saved from destruction, but another struggle had begun. After the war, as part of the post-war division of Europe decided by Churchill and Stalin, a Communist government took over. In 1947, they demanded King Michael's abdication, threatening to shoot 1,000 students and young people if he refused.
He left Romania with nothing and had to work to support Queen Anne and their five daughters. He started a market garden in England, then worked for an American aircraft firm, before moving to Geneva, where he started an electronics firm and also worked as a stockbroker.
'I couldn't dream that the exile would last so long,' he said. 'I thought that it would only be a matter of months. The west dropped me like a hot potato. But I never gave up hope. Evil cannot last indefinitely.'
I couldn't dream that the exile would last so long. But I never gave up hope.
In Geneva, the family received a steady stream of Romanian visitors. Then, suddenly, in December 1989, the flow became a flood, and the media wanted to know what the King felt about the revolution taking place in his country. Millions watched on television as the Communist regime was overthrown.
In the new Romania, King Michael was recognized as a former head of state and given a pension. Royal property was returned to the family. An opinion poll in January 2012 placed him as the most trusted public figure in Romania, far ahead of the political leaders. That October a square in Bucharest was renamed after him, in celebration of his 91st birthday. He died in 2018.
Read an article by Princess Margarita of Romania: Romania was our home
Ulrike Ott Chanu visited Bucharest with Andrew and Eliane Stallybrass in October 1990, 11 months after the fall of Communism. She wrote:
My first impression of Bucharest is darkness. Light bulbs are not available at the moment. Sometimes the orange bulb is missing from the traffic lights – some resourceful citizen has 'privatized' it.
A week's visit does not make us experts on Romania, but at least we begin to understand what it means to live there: the queues outside the shops, the hints dropped in conversations. Parents' fear that the younger generation will leave Romania to live abroad. The frustration of a young leader because change is slow. The disillusionment of a newspaper editor facing corruption. 'We older people are a bit tired,' says my hostess. Others are more optimistic: 'The young people have the enthusiasm and the energy, we older people have the experience.'
We meet three elderly men who attended a conference of the Oxford Group (later Moral Re-Armament and now Initiatives of Change) in Lausanne in 1937. They have only now been able to re-establish contact. One of them tells us in perfect French ('I haven't spoken it for 50 years') about the impact that conference in Lausanne has had on his life.
On my departure, I get stuck at Bucharest airport for over six hours due to heavy fog. Plenty of time to reflect on the past week – full of new experiences, conversations, discoveries and encounters.
We have been welcomed with boundless, warm-hearted and generous hospitality, laughed a lot, learned a lot and made wonderful friends. And I know that this will not be my last visit to Romania. A country is not just a geographical or political entity: it is people.  
Ulrike, Eliane and Andrew went back to Romania several times after this first visit. They are still in touch with the friends they made in 1990.
Adapted from Caux-Information, 1990/91
____________________________________________________________________________________________
This story is part of our series 75 Years of Stories about individuals who found new direction and inspiration through Caux, one for each year from 1946 to 2021. If you know a story appropriate for this series, please do pass on your ideas by email to John Bond or Yara Zhgeib. If you would like to know more about the early years of Initiatives of Change and the conference centre in Caux please click here and visit the platform For A New World.
Photos black and white: Initiatives of Change (photo top: Rajmohan Gandhi, Dalai Lama, King Michael, Queen Anne
Photo King's Palace and Romanian friends: Eliane Stallybrass
Photo University Square, street scene, picnic, church, host family: Ulrike Ott Chanu