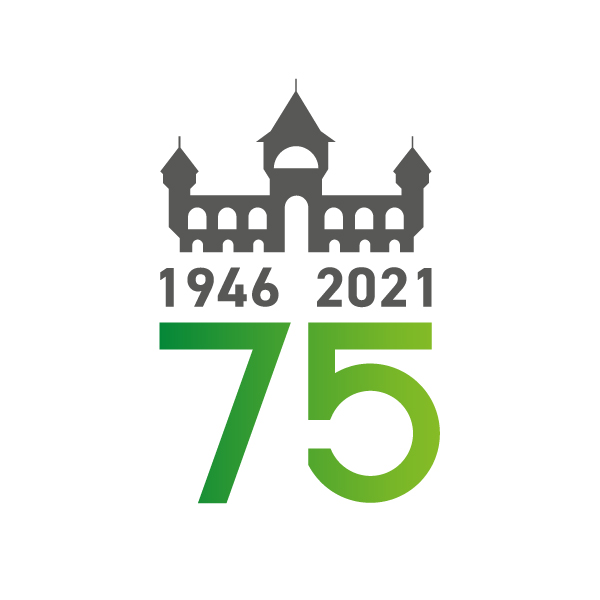 1989: Michel Orphelin – Theatre of the heart
By Andrew Stallybrass
13/09/2021
In spring 1946, when the first small group of Swiss visited the derelict hotel in Caux which was to become the Initiatives of Change (IofC) conference centre, they realized its ballroom could become a theatre. Within a few years, its conversion was complete, with a scene dock and workshop, fully equipped stage, fly gallery and raked seating. 
Hosts of plays have been produced in the Caux theatre, and small armies of actors and stage crews have laboured here. In 1989 one of its many stars, Michel Orphelin, was back with his one-man show about St Francis of Assissi, Poor Man, Rich Man. Its French version, Un Soleil en Pleine Nuit, had first been staged in Caux in 1980.
I'm just a worker. I do what I can.
Michel is a French mime artist, singer, cabaret performer and actor, engaged in what his son François calls 'the theatre of poverty'. The true avant-garde, Orphelin believes, lies in great simplicity. 'What is often missing in complicated productions is that they no longer know how to speak to the heart.'
Theatre, he feels, is about creating and transmitting a relationship of love. It should deal with reality; be simple, without being simplistic. 'I'm just a worker,' he says. 'I do what I can.'
As a young person, he never dared to admit to himself or his parents that he wanted to become a performer. So he went to hotel school. There he and two friends formed an act, Les 3 Horaces, and eventually launched out as professionals. For 12 years they toured together, appearing on television over 70 times. But he still felt a lack of meaning in his life. 
Things began to change on a holiday in Brittany, where at a time of emotional turmoil, watching the sun set in the sea, a sense of certainty flooded in. 'God exists,' he says. 'I've met him. He was there for me.' 
He found that his new faith did not automatically resolve long-standing problems of relationships in his work, and with his mother whom he loved, but with whom he fought continually.
It was through seeing a play in the theatre on his first visit to the conference centre in Caux that he found his life purpose. 'It was as if I saw the Cross on stage. It was a call to transmit a luminous Cross to people.' He rebuilt his relationship with his mother, who also found a faith.   
Then friends asked him to play in the musical revue, Anything to Declare? which took him to India. He accepted, though it was not easy being away from his wife Marie-José, a violinist, and his son and daughter.
He has a vivid memory from that tour of a young man coming to one of the cast after a performance to say that he had given up his plan to kill the person he blamed for the death of his cousin. He had been moved by a sketch which dramatized the real life experience of forgiveness of Irène Laure. Few actors can know, as he does, that they have been in a production which has saved a life.
Few actors can know, as he does, that they have been in a production which has saved a life.
Poor Man, Rich Man was written especially for him by Hugh Steadman Williams, a British playwright engaged with IofC. Michel performed the play in a dozen countries during the 1980s, frequently bringing it back to Caux in the summers.
The tours, with their frequent travel and late nights, had their lighter moments. In one small town, the musical director ordered a piano from a music shop, and on delivery found that some of its strings were broken. 'But are you absolutely sure you need to play those notes?' asked the delivery man.
Wherever it went, the play touched people deeply. After one performance, a nun said, 'You have helped me to rediscover my calling to poverty.'  
In Belgium, a couple came to him with a dilemma: they had adopted three children – should they adopt a fourth? Some nights later, in another town several hundred miles away, they were back again. They had taken the plunge, they said, but instead of one child, they had been asked to adopt a brother and sister. They were going to name them for St Francis and his female counterpart St Clare.   
Like the saint he portrayed, Michel has always been clear about the source of his gift. That's why he has never been foolish enough, he says, to imagine he is the water himself.
'Who am I to touch people like this?' he says. 'I'm just a pipe for the living water of the Creator to flow through to a thirsty public. All I can do is to try to be a clean pipe. It is essential to have pipes, but they are only pipes.'
Read the French script of Poor Man, Rich Man
Discover the programme of Poor Man, Rich Man
____________________________________________________________________________________________
Watch a video of the play (1985)
Watch Michel Orphelin acting in the theatre in Caux (6"00')
____________________________________________________________________________________________
This story is part of our series 75 Years of Stories about individuals who found new direction and inspiration through Caux, one for each year from 1946 to 2021. If you know a story appropriate for this series, please do pass on your ideas by email to John Bond or Yara Zhgeib. If you would like to know more about the early years of Initiatives of Change and the conference centre in Caux please click here and visit the platform For A New World.