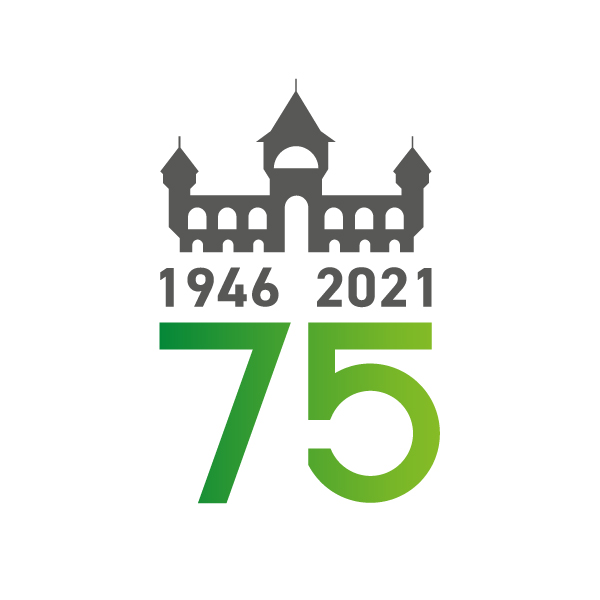 1995: Marta Dąbrowska – 'Summer comes and Caux comes'
By Mary Lean
06/10/2021
In the early 1990s, after the fall of the Berlin Wall, large numbers of Eastern and Central Europeans came to the Initiatives of Change (IofC) conferences in Caux. Many, like Marta Dąbrowska from Poland, were young people who had grown up behind the Iron Curtain and were eager to explore the world.
Marta, now an associate professor at the Institute of English Studies of the Jagiellonian University in Krakow, first came to Caux as an interpreter in 1992.
'I knew nothing about interpreting,' she says. 'But I knew there were a lot of Poles at Caux, and that their English was probably worse than mine. I made a lot of mistakes, but it was a good environment to learn the skill. But being in the booth or interpreting at meals did not allow me to grasp the essence of Caux fully. I wanted to know more.'
She finds it hard to put her finger on what kept bringing her back after the interpreting was no longer needed. The beautiful scenery? The resonances with her Christian faith and the spirit of service instilled in her by her years in the scouting movement? The friendships she made? A sense of being a part of something greater?
Whatever the reason, Marta has returned to Caux every summer since – except for 2003, 2007 and the years of the pandemic. 'For me, summer comes and Caux comes – they are inseparable,' she says.
Caux has always been a place where I can breathe, where I can be myself.
Over the years she has volunteered as an interpreter, as office assistant and manager and on the team which sorts out who sleeps where. She has helped to plan conferences – especially those focused on the creative arts – and for three years was part of the Caux Preparation Group, coordinating Caux's summer programme. In 2020 she was elected to the International Council of IofC.
'Caux became my second home and family, a place I felt responsible for,' she says. 'It has always been a place where I can breathe, where I can be myself and not feel under pressure to live up to my role of a professor. The beauty of the place, its serenity, is extremely powerful for me.'
In 1995, conference participants were offered a free day to walk in the mountains. Marta found herself the only woman in a group which included some Russian journalists. 'Having been brought up under Communism, I had a kind of subconscious hate of Russians, an uneasy feeling about them. I knew Russian from school, but I wasn't so keen on using it, so we barely spoke.'
I realized we are all human and those people are not guilty.
As they headed up and up, Marta realized to her alarm that they were going to climb the Dent de Jaman, a sheer tooth-shaped mountain. It was so steep she had to climb on all fours. 'I was really scared. Those Russian guys helped me get to the top. Since then, I have had this softer spot for Russia. I realized we are all human and those people are not guilty.'
Another important encounter was with Heinz and Gisela Krieg. 'For me as a Pole meeting a German who had been involved in the war was quite an experience. He was taking all the steps he could to bring reconcilation between our countries. We visited each other and for many years they used to phone me on 1 September, the anniversary of Germany's invasion of Poland in 1939, just to tell me that they remembered.' In 1998, with others, they brought together Poles and Germans for a conference in Krzyżowa.
After its launch in 1993, Marta became involved with Foundations for Freedom, which ran courses for young East and Central Europeans on the personal values which underpin democracy. She co-organized its first regional meeting in Krakow in 1995. 
'In those days there were so many young Eastern Europeans involved,' she says. Some continued their involvement with IofC, but others did not. She asks herself why.
'They were young, they had energy, they were either studying or just graduated, they were curious about the world. They were attracted to the novelty of Caux, the excitement. But then life took over – getting jobs, establishing families.' Money was also a barrier, once Caux started charging fees for participation, rather than simply encouraging donations. 'Those who still come work behind the scenes in Caux, providing a service so that we can afford to stay in Caux.'
And so, why did she keep coming? She speaks of the care she received, from people from all over the world. 'They didn't just talk about love and unselfishness, they lived it. When people are angels to you, you feel that there is good in the world and you want to pass it on.'
____________________________________________________________________________________
This story is part of our series 75 Years of Stories about individuals who found new direction and inspiration through Caux, one for each year from 1946 to 2021. If you know a story appropriate for this series, please do pass on your ideas by email to John Bond or Yara Zhgeib. If you would like to know more about the early years of Initiatives of Change and the conference centre in Caux please click here and visit the platform For A New World.
Photo top, Heinz and Gisela Krieg: Initiatives of Change
Photo portrait and 1995: Marta Dabrowska
Photo Marta in Caux 2017: Ismar Villavicencio